Ever encountered following problems while using Iphone?
DRAINING BATTERY LIFE – Common DIY is to reduce brightness, turn off automatic downloads which are not required, but if, the problem still persist, seek the help of an authentic repairing center.

STUCK KEYS – So if you daily struggling with your home/power key buttons then stop this battle and make peace with your iPhone, it needs an aid of a genuine specialist.

DAMAGED/CRACKED SCREEN – Dropped your iPhone while you tripped and broke your iPhone screen! It could be replaced but make sure to avoid tempting cheap screen replacement providers.

CAMERA MALFUNCTION – Blurry or Distorted images? Wipe off the dust with help of tissue from the lens and if the problem isn't retrieved yet then there is a technical issue which needs to be fixed.

CHIPPED SIM-CARD SLOT – It happens rarely that you face this sort of problem but if it happens then immediately get it repaired by professional service center to avoid accumulation of dust particles in the slot.
If you facing any of above problem then how to rectify it?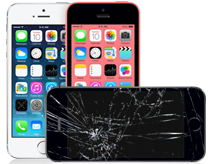 Iphone forms a constitutive part of your life, saving for months to buy it and then any damage caused to it could seriously disturb one, therefore it is important to get your precious iPhone repaired by an authorized and original parts provider repairing center only, like "iPhone Repair Cafe", the best in NYC.
Benefits:
12 Months Warranty

Use of Original Quality Parts

iPhone Screen Repair in Just 30 Minutes

NO-HIDDEN Cost, Only Genuine Prices
For more information visit here:- repair my iphone screen